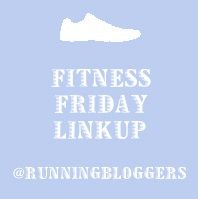 Happy Friday, friends! I'm especially happy today, as my grandfather was released from the hospital yesterday afternoon!
THANK YOU ALL
so much for the prayers! He appreciates them and so does my family. Over the past few weeks, I told him several times how many friends were praying for him and he was so grateful, he asked me to thank you guys! He's now in a Skilled Nursing facility (we found one that is not connected to a nursing home…which seemed to satisfy him) while he regains his strength. The adjustment will be hard for him as he could be in this facility up to a few months. He's not thrilled about it and was having a hard time yesterday afternoon, but I know he will make the adjustment in time.
A recap of my week:

Saturday
– 6.5 mile bike ride with a few running friends – they ran, I biked. Still taking it easy on my ITBand

Sunday
– Rest Day – Saturday night, I woke up at 11 p.m. with the stomach bug. It was awful. I was awakened again at 2 a.m. with severe nausea and dry heaving. YUCK. Needless to say, I stayed home from church and attempted to rest all day.
Monday
– Rest Day, recuperating from the bug! Ugh.

Tuesday
– No Workout, still didn't feel 100%.
Wednesday
– Jillian Michaels Shred it with Weights – Kettlebell Level 2
Thursday
– No Workout
Friday
– Biggest Loser Power X-Train and Ab Blast x 35 minutes before work
This past week, I changed up my breakfast routine a bit. Instead of my usual egg whites and turkey bacon, I decided to drink green smoothies instead!
Yesterday, my smoothie consisted of pineapple, mango, banana, almond milk, and spinach. I also had a strawberry, blueberry, almond, almond milk, and spinach smoothie earlier in the week. Smoothies are definitely a favorite of mine, especially as the temperature outside is heating up for summer! I see a lot of green smoothies in my future!
Last night, I met up with my running pals for sushi night! It was long overdue and we had a great time catching up!
On Tuesday, I enjoyed a little frozen yogurt from Orange Leaf…for free! They were so nice and gave nurses a free 8 oz cup of froyo! Yum!
I'm SO excited for a fun weekend ahead! We have tickets to see
Wicked
in New Orleans on Friday night. Jason surprised me with Wicked tickets for our
anniversary
and I cannot wait! We also get to hang out with
these guys
for the weekend! I see lots of laughter, yummy food, and fun stories ahead!
What do you have planned for the weekend? Hope you have a great one!