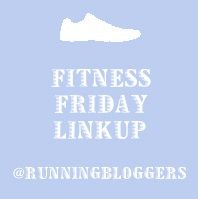 It's Friday again! Yay!
This week has been a busy one and it seemed to fly by! I'm SO glad it's the weekend once again! I'm really looking forward to this weekend for many reasons:
#1
– Mandisa, Brandon Heath, and Jamie Grace in concert!!! This past week, MANDISA tweeted me. I'm not lying, I almost died from excitement!! Eeek
#2
– Our nearby University (and my alma mater) is hosting a weekend softball tournament and the proceeds benefit local cancer patients! Softball…..cancer benefit…I'm so there! I'm really excited to watch the games!
#3
– My brother/sister in law are coming for a visit and we are going to have a crawfish boil and celebrate Kayla's Birthday! Can't wait!!
Now for the REAL reason of this post –
Fitness Friday!
I didn't have the greatest week workout wise. Here's a breakdown of the week:
Saturday – 11 Mile Run (and Easter Egg Hunt)
Sunday – Rest Day
Monday – Sprint/Track Workout 3.25 miles
Tuesday – Walked the Dogs
Wednesday – Walked the Dogs
Thursday – 3 miles on the treadmill
Friday – Hoping to squeeze time to walk the dogs again...
After Monday's track workout, I was incredibly sore for days. DAYS. Every time I stood up, sat down, and walked (so pretty much with any movement), my right hamstring screamed at me. Since that was my first sprint workout in at least a year, I guess I had a reason for the soreness!
I'm finally feeling mostly back to normal and was able to run 3 relatively painless miles on the treadmill on Thursday afternoon. Yay!
Saturday is another long run with the running group. Not sure yet how far we are running – 8 to 10 miles is my guess.
As far as
Favorites
, here's a few things I'm currently loving:
Snowcones!
I've had one this season so far and am looking forward to at least a few more before summer is over! :0) My favorite flavors are Banana (weird, I know) and Pink Bubble Gum!
Clinique Facial Wash!
This one took me by surprise. I was searching for something to wash my face with and came upon a abag of Clinique samples I never used (you know, the ones that come with their bonus buy cosmetic bags). I tested out the face wash and it was meant to be! I love this stuff! :0)
Have you had a snowcone yet this season?
What's your big weekend plans?
---------------------------------------------------------
Also, don't miss out on my current giveaway, Race-Kred. Go check it out! :0)