For starters, please say a prayer for
my grandfather
today if you have a moment. He developed osteomyelitis in his foot and will likely have to have his toe amputated. I spent several hours with him yesterday afternoon in the ER. He's 92 years old and until this past November, he's been in perfect health besides being a diabetic.
I appreciate your prayers and I know he does as well. Thank you!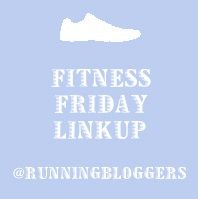 Now on to Fitness Friday!
This week, my major source of activity has been walking related to my left
ITBand acting a fool
.
Saturday
– I missed my long run because of a trip to Texas. Sadly, my ITBand flared up on Friday afternoon's run, so I didn't get to run as far as originally planned. I did walk in Downtown Houston – 2 miles

Sunday
– Walk in Downtown Houston – 3 miles
Monday
– Was super sore after my orthopedic massage. I even have bruises to prove it! Ouch! Ice at night.

Tuesday
– Rest Day – Ice at night/Foam Roll

Wednesday
– 2 mile walk with the doggies – Ice at night/Foam Roll

Thursday
– Was in the ER with my grandfather all afternoon – Ice at night/Foam Roll
Friday
– At the moment, I'm most concerned with my grandfather. If I have the chance to walk, I will…otherwise, I'm not worried about it.
I am currently registered for a 5K on Saturday. My plan? If I can't PR, then I'm not going to try to kill myself. At this moment, I don't think it wise to push my ITBand to its limits, so I'm going to run it with a co-worker. She's been seeing a personal trainer for the last month and her goal is to complete a 5K. I'm hoping to run with her and help her reach her goal, if my knee behaves.
Also, my two BRF's (Best Running Friends) will be there…and I'm SO excited because it feels like I haven't seen them in AGES! Can't wait!! :0)
I realize I didn't do a lot this week fitness-wise, but I'm a strong believer that sometimes rest is the best medicine. Even though I'm about to go stir crazy, rest is exactly what my knee needs right now.
What do you have planned for the weekend? If you are racing, have fun and best of luck to you!!